Regular price
Sale price
$16.00 AUD
Unit price
per
Sale
Sold out
Floral, bright and juicy. Jasmine and citrus notes light up this extremely refreshing drop, trailing with crisp green apple and a clean finish. Ideal for mid-week parties and casual suppers.
Serve chilled ☞ straight up or pour over ice and garnish with a slice of lemon and sprig of mint. Delicious as a refreshing non-alc spritz or in a cocktail. 
Gold Medal | Specialty Foods Competition, Sydney Royal Fine Foods Show
'Relaxation can come in a bottle it seems. The scent of jasmine flowers...and the tannic grip of green tea keeps you wanting more. Kick back, top up and make it a lazy afternoon' - Gourmet Traveller
⭐︎ 23 calories per 165ml serve.
⚑ Less than 1.15% ABV ❄︎ Store refrigerated
✌︎ Hand brewed and bottled by us in Sydney.
View full details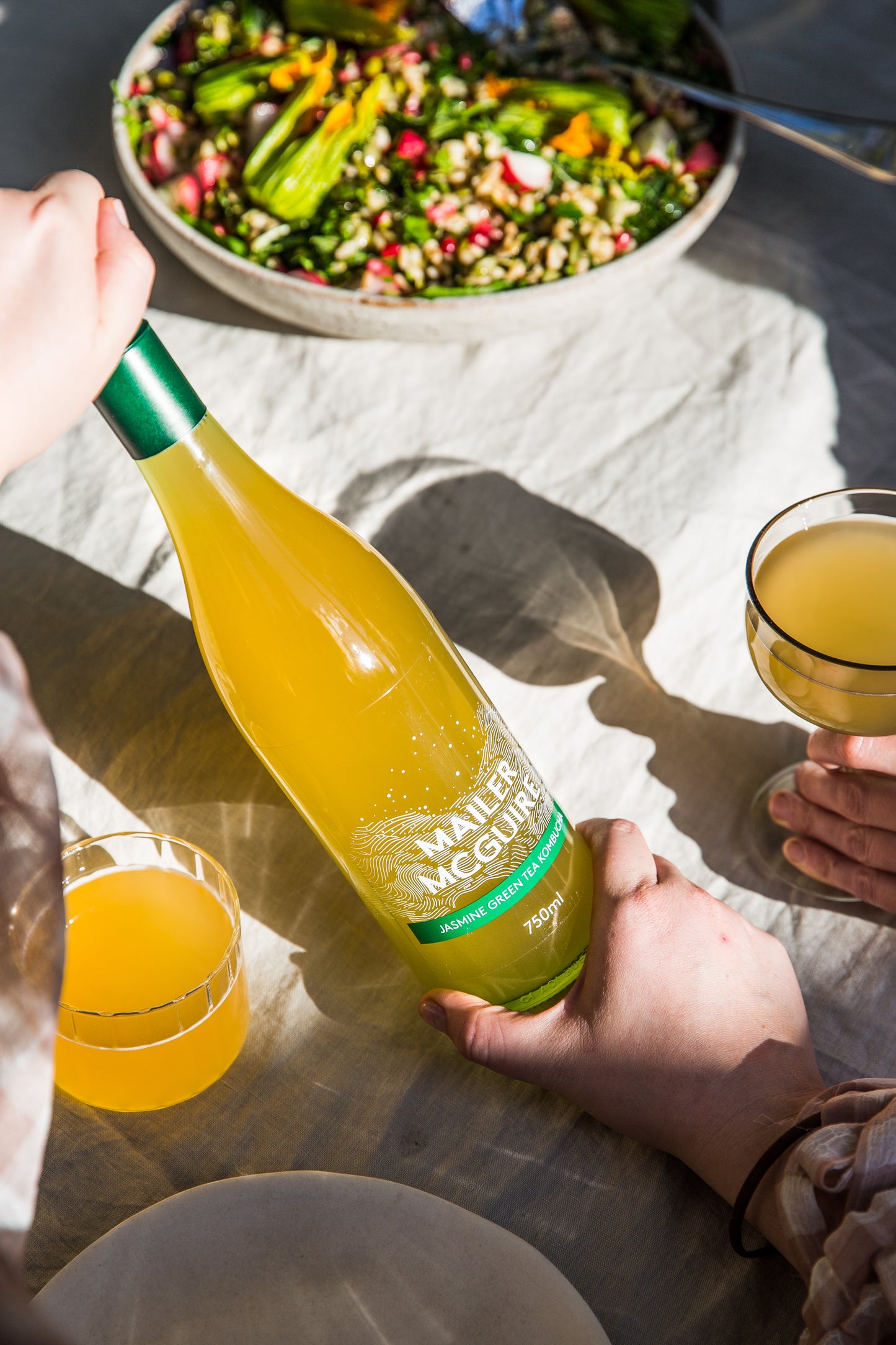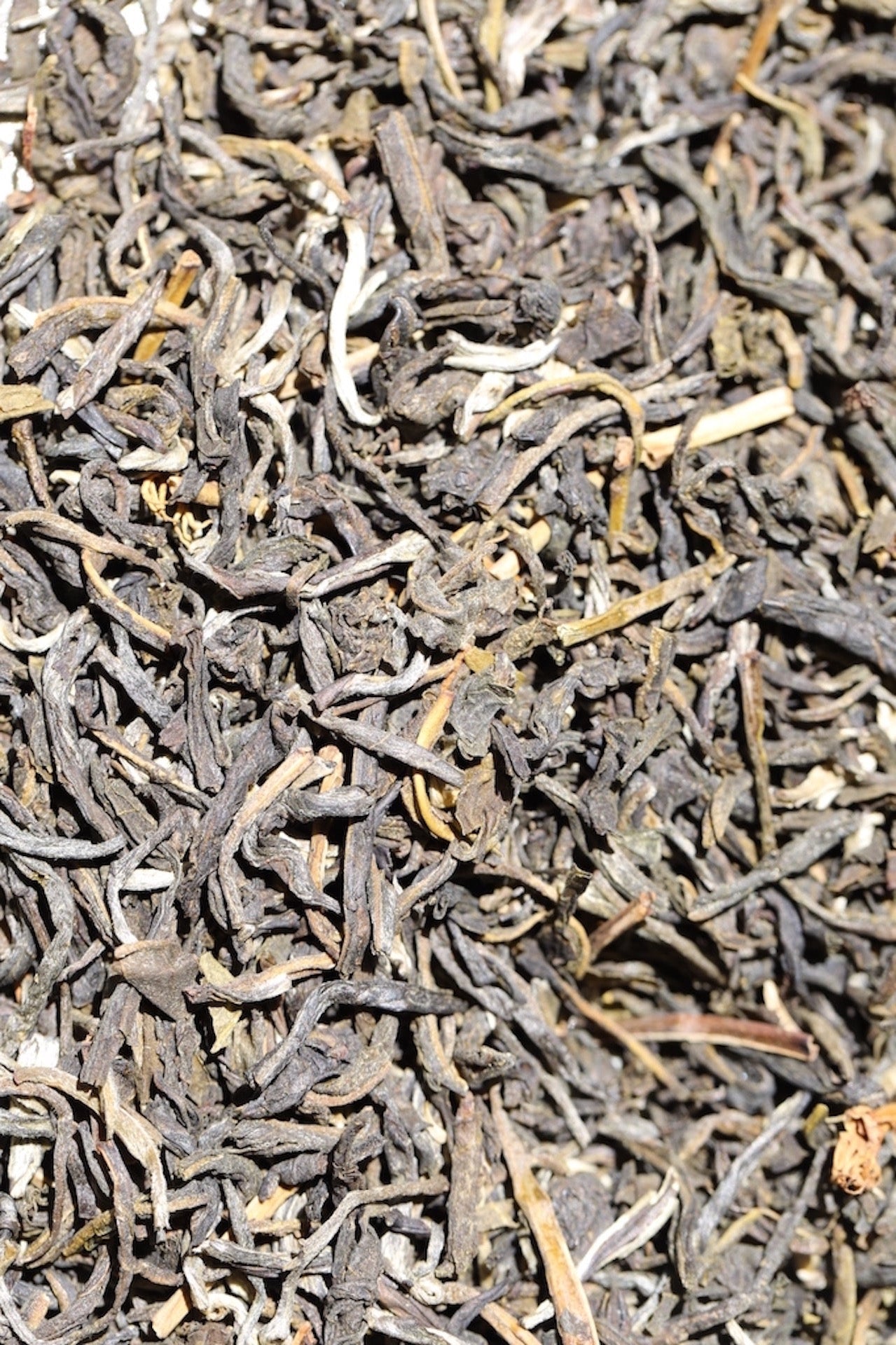 Ingredients
Toast your good health
✓ Our kombucha is unpasteurised and alive with gut friendly cultures.
✓ Naturally lower in sugar, without using sweeteners such as stevia or erythritol. Containing only real ingredients and no preservatives.
✓ High in healthy acetic acid, antioxidants and polyphenols that can help boost the immune system and lower the risk of disease.
✓ Includes L-theanine, an amino acid that is known to promote relaxation and reduce anxiety and stress.
⚑ As a fermented drink this authentic kombucha may contain trace amount of alcohol, less than 1.15% at time of bottling. Always store refrigerated.
Collapsible content
Tea Information

Whole leaf tea: Green tea

Origin: Huangshan Maofeng (Tunxi, China - at the base of Yellow Mountain) and jasmine flowers (Hangxian, China).

Harvest: March/ June

Process: Withered slightly, pan friend, hand rolled, dried.

We've selected an extraordinary jasmine green tea for this kombucha. The fresh tea leaves are first left to wither naturally before being exposed to fresh jasmine flowers that are left in baskets surrounding them up to five times in two days. This natural infusion process creates a far more mellow and superior flavour than other jasmine teas that use either essence or dried flowers.
Nutritional Information

Serving size: 165ml
Average quantity per 100ml
Energy 90kJ | Protein 0.1g | Fat total 0.2g | Carbohydrates 4.0g | Sugars 3.7g | Sodium 1.5gm
Enjoy With...

Works as a substitute for white wine and farmhouse cider. A good friend to bitter green salad, roast chicken and scallops.
Shipping

Mailer McGuire Kombucha is the best place to buy authentic kombucha online. You can check out our shipping rates below. 

Unfortunately we can no longer ship to PO Boxes or Parcel Lockers.

NSW 

Free shipping on orders over $75 ($15 flat rate for orders under $75)
Orders are sent Mon, Tues, Weds.

QLD, ACT, VIC 

Free shipping on orders over $120 ($15 flat rate for orders under $120)
Orders sent Mon, Tues, Weds. 

SA, WA, NT, TAS

Sadly, our bubbly kombucha can't make its way to South Australia, Western Australia, Tasmania and the Northern Territory. We want to ensure it arrives fresh as a daisy - so can't commit due to the potential lengthy travel time.

For more info on our Shipping and Returns head here
All natural.

We don't use artificial sweeteners, flavourings or extracts. No short cuts or quick fixes, just real ingredients and wild fermenting cultures.

Complex flavours.

Upgrade your drinks rituals, Mailer McGuire is a healthy and refreshing non-alc alternative that you'll love coming home to. Savour it like a craft beer or wine, but with a clear head come morning.

Good for gut health.

Our kombucha is low in sugar, raw and alive with friendly cultures and healthy acids. Taking care of yourself never tasted so good.

100% recyclable packaging

It's our mission to make sure your recyclable glass bottles get delivered safely. We use recyclable and reused packaging.